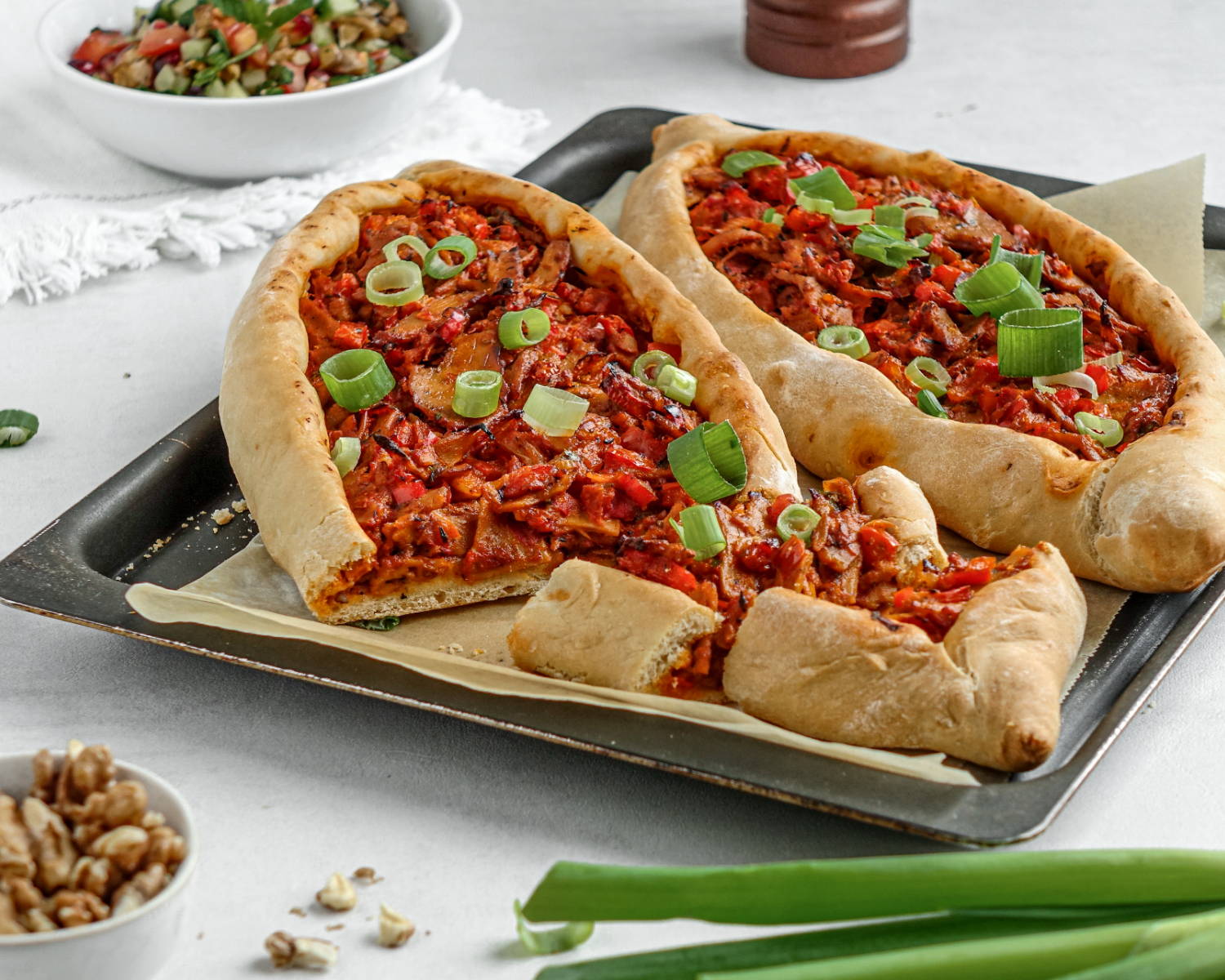 #Moderate
#45 minutes
#4 servings
---
| | | |
| --- | --- | --- |
| | | |
| | | |
| | | |
| | | |
| | | |
| | | |
| | | |
| | | |
| | | |
| | | |
| | | |
| | | Spring onion with green for decoration |
| | | |
| --- | --- | --- |
| | | |
| | | |
| | | |
| | | |
| | | |
| | | |
| | | |
| | | |
| | | Salt, Pepper, paprika powder |
---

For the salad, put all the ingredients in a bowl with the walnut kernels. Add lemon juice, olive oil, chopped mint and seasoning, mix well. Season to taste.

For the dough, mix the spelt flour, salt and yeast in a bowl. Mix the water with the yoghurt and olive oil. Add to the flour mixture and knead into a soft dough. Knead for at least 10 minutes. Cover and let rise at room temperature for at least 2 hours until double.
For the filling, heat olive oil in a frying pan, add onion and garlic, fry vigorously. Add planted.kebab and stir. Now add the chillies, tomatoes and tomato puree. Steam for approx. 4 minutes. Stir occasionally. Season to taste with the parsley and spice.

Divide the dough into 4 equal pieces. Dust a clean work surface with flour. Roll out each piece into a thin oval. Place the dough pieces on the baking tray covered with baking paper before filling. Then spread the filling in the centre, fold the edges of the dough inwards and press them down.

Bake at 220 degrees for approx. 20 minutes in the middle of the oven until the edges are golden brown. Remove and garnish with a few rings of spring onion. Serve with the salad.
---