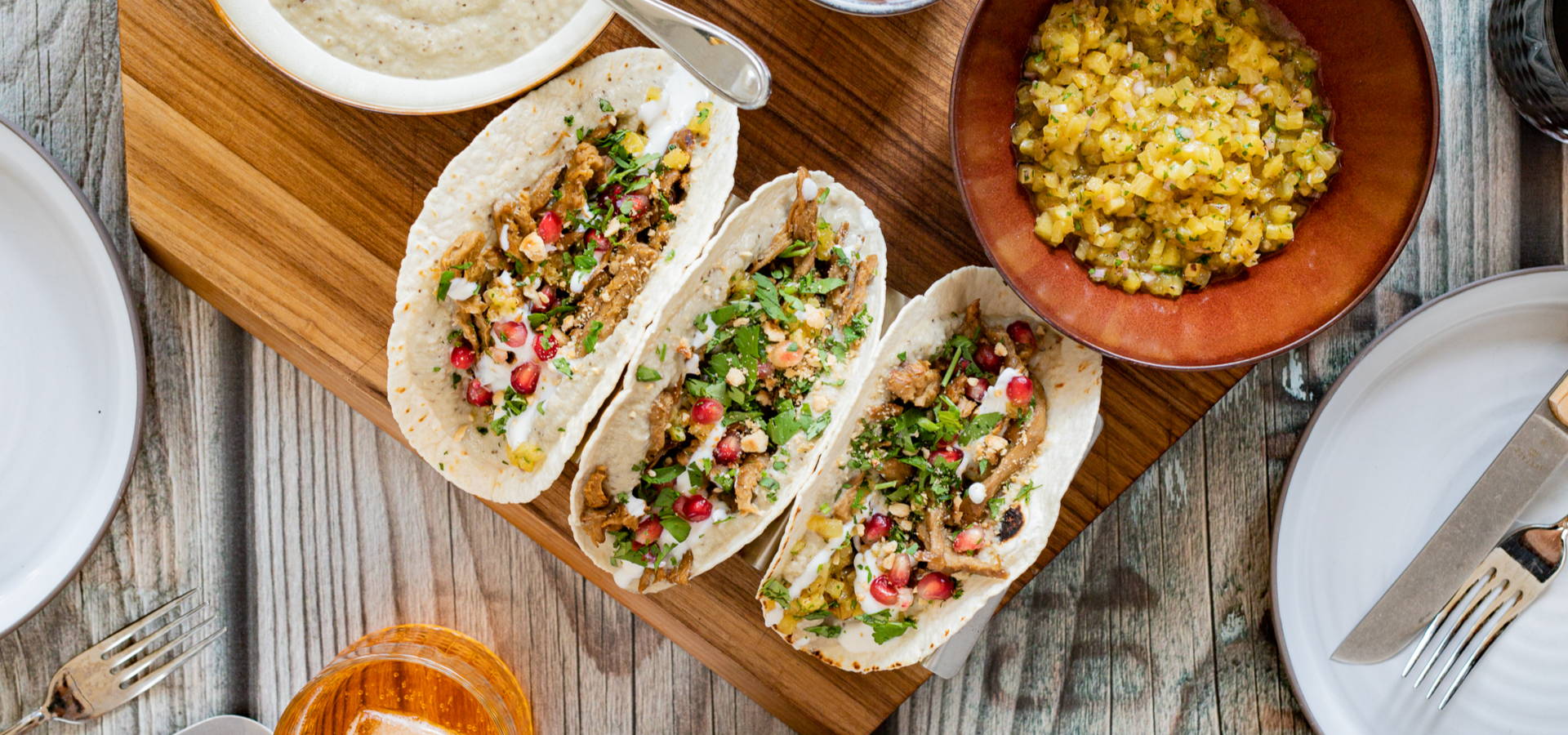 #next level
#60 minutes
#4 servings
About the cook
Steffen Sinzinger, born in 1980, is a chef living in Berlin and has been a passionate food blogger for more than 10 years now. He is a fixture on the German-language blogger scene and his wide-ranging topics appeal to both professional chefs and the home-cooking faction. As probably Germany's only chef, he regularly produces his own blog called Berliner Speisemeisterei and helped launch GOOD n' Vegan, the first purely vegan delivery service.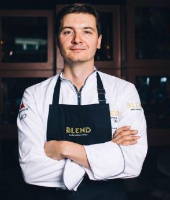 3 aubergines
2 cloves garlic
1 lime
3 tbsp tahini
Cumin
Pepper
Olive oil
50 g fully ripe pineapple
10 g fine diced shallots
1/2 tsp coriander chopped
1/4 chilli pepper without seeds
1/2 tbsp olive oil
Lime juice, zest
4 taco bottoms
100 g unsweetened soy yoghurt
Lemon
30 g hazelnuts peeled
1 pomegranate
1/2 bunch coriander, chopped
Vegetable oil
Salt
Pepper
Baba Ganoush
 
1. Prick the aubergines several times with a wooden skewer and spread them out on a baking tray covered with baking paper. Cook in a preheated oven (electric oven:210 °C/fan: 185 °C) for approx. 1 hour until they are very soft and have a well roasted skin.
 
2. Remove the aubergines from the oven, cover with a damp cloth and leave to rest for about 15 minutes. Cut the aubergines in half and remove the flesh from the skin using a tbsp.
 
3. Peel and roughly chop the garlic. Squeeze the lime. Place the aubergine flesh, garlic, lime juice and tahini in a large container and blend with a hand blender until creamy. Season with salt, cumin and pepper. Pour into a jar or bowl with a lid and chill until ready to serve.
Pineapple Salsa
 
1. Cut the pineapple into fine cubes.
 
2. Add the diced shallots, chopped coriander and chopped chilli and mix together.
 
3. Season the pineapple salsa with the olive oil, lime juice and zest and salt.
Stuffed Tacos
 
1. Roast the hazelnuts and then roughly chop them.
 
2. Season the soy yoghurt with a little lemon zest and juice and salt and pepper.
 
3. Remove the pomegranate seeds from the fruit. To do this, quarter the pomegranate and, ideally, scoop out the seeds under water in a bowl filled with water and remove the white core. Drain the removed seeds in a sieve.
 
4. Fry the planted.pulled in a pan with a little vegetable oil over medium heat.
 
5. Place the tacos in a frying pan and toast over a medium heat until lightly crispy on both sides.
 
6. Remove the tacos from the pan and place on a board, spread with the baba ghanoush, spread the fried planted.pulled, drizzle with yoghurt and finally sprinkle the hazelnuts and coriander on the filled tacos and enjoy.